Welcome Messages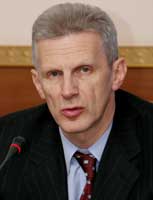 It is a great honor for us to welcome the participants of the 39th International Chemistry Olympiad!
Young scientists from more than 60 countries will come to Moscow to demonstrate their theoretical knowledge and practical skills and, what is more important, to exchange new ideas in chemistry.
All our life is anyway connected with chemistry. Chemical industry is one of the leading branches of many national economics, and chemists make an essential contribution to national scientific and technical potential. Chemistry also plays an exclusive role in maintaining vital needs of society. I am confident that thanks to the International Chemistry Olympiad young scientists will discover many new applications of chemistry.
Talented youth is the "gold reserve" of any nation. And the goal of teachers, parents, state organizations is to support clever children and develop their creativity. Every child is talented in his own way, and it is very important to help him in revealing his abilities in proper time, to make him believe in himself. International Science Olympiads contribute a lot to solving these problems.
Hosting International Olympiads is of significant importance for our education system, since such outstanding events promote scientific knowledge both in Russia and all over the world as well as allow talented pupils to show their skills. Participation in International Chemistry Olympiad is not only a great honor for each of you. It is also a serious responsibility because you represent your country. We hope that while staying in Moscow you will enjoy really friendly and warm atmosphere, find new friends and make significant contribution to the development of education and science!
I wish you every success in the Olympiad and great discoveries in chemistry!
Andrey Fursenko
Minister of Education and Science of Russian Federation